Transform Your Home
October 9, 2014
---
Transform Your Home with a New Fireplace
A lot of clients come to us looking for a new fireplace that is not only practical, but one that becomes a welcome addition to their decor, or a unique showpiece.
Below are just a couple examples of our customers wanting something unique.

This Xtreme 6020 fireplace was a replacement in a existing home in Kelowna. We removed a traditional gas fireplace that was installed over 10 years ago. The owners wanted to have a statement fireplace installed. The entire wall was redesigned. This is a perfect example of how replacing the fireplace and wall can transform the look and feel of the entire home.

The builder wanted a WOW factor and they got it. This fireplace is the Xtreme by Travis industries. It is 5 feet long and 90,000btu. The unit comes standard with a power vent meaning the excess heat is exhausted out the chiminey. Many different media options are available to customize your installation.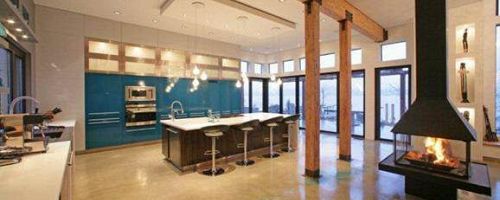 When it comes to designer wood fireplaces this unit takes it to the next level. This 4 sided wood fireplace installed into a Kelowna Home by The Fireplace Den is the centerpoint of the home. You see it from every angle including when you first arive at the home. One pane of glass is removed so wood can be placed on the fire. This fireplace is a canadian built product.
At The Fireplace Den we specialize in choosing the right fireplace for the right room. Come down today and see the huge selection of gas fireplaces on display.